O.K…here's the last or first part…depending how you look at it. I just noticed that my top 5 (or 5.5) are all pretty damned unattractive. The Spoon guys are o.k. looking but that would ruin the hilarity of fug that is happening here.
Tomorrow THERE WILL BE BLOOD opens and man, I am seriously stoked! I haven't been this excited since the last STAR WARS/LORD OF THE RINGS movies and THERE WILL BE BLOOD is a 3 hour emandering art film. Jeez, I'm such a snob these-a-days. But a true snob wouldn't be dying to see a film like I'm dying to see that one. Anyway….on with the tunes!
1. Ike Reilly Assassination- We Belong to the Staggering Evening
Dude. Duuuuuude. This album rocks so damned hard I literally crave it when I'm feeling down. I had Ike's first album a few years back and I just didn't get it. He seemed to have a potty mouth just for the sake of having a potty mouth, although the guy could write a tune. Then I heard some good stuff about "We Belong to the Staggering Evening" and as it happened, I was in Boston last June and he was playing.
I went to the show and promptly had my doors blown off. I think they're somewhere in Boston still but now I have this new album to try and restore my doors. I compare Ike to a grubbier Bruce Springsteen or a more refined Replacements. Many of his songs are stories that are either total lies or some of the best life experiences one could have. Either way, they're fun and insightful and the band totally rips. The Ike Reilly Assassination also reminds me of Marah, a band I love dearly but who get more and more hit and miss with every album they put out. At least Ike is there to fill that gap.
2. Two Cow Garage- 3
It was with great deliberation I decided to put Two Cow Garages "3" at the #2 slot. I really love this album and all it stands for but sometimes it's hard to put a lil band like this so high on a list ahead of more "accomplished" artists. But then I realized how silly that is because "3" has played in my car everytime I get in it I think. I'm also a big fan of alt-country/punkbilly/cowpunk or whatever you want to call it and with the demise of Slobberbone, these guys are the heir apparent to the throne.
Plus this album rocks but also features songs about just how frigging hard it is to be in a band- emotionally, physically and responsibility wise. On this album the band laments not going to college and constantly have the feeling they should hang it up. But those songs are mixed in with songs about how music has always been a part of their lives and to give up now might render their lives pointless. Like the Tommy Womack album, creating, especially for a living, is a sticky area. You're always high from the feeling then dragged down by poor response. On and on it goes and Two Cow Garage captures those feelings perfectly.
3. Wilco- Sky Blue Sky
Yeah, #3! My favorite band of all-time made a really, really, really great album and it's not even amongst my least favorites of theirs. I just liked other stuff better this year. I actually feel bad not putting Wilco's "Sky Blue Sky" higher because it's been the most slagged album the band has done. If you always wondered what the hell I'm on about when I talk about how much I love Wilco, this album is a perfect jumping off point for you. It's very accessible.
Jeff Tweedy has pulled together the very best lineup of the band yet with Nels Cline on guitar and Glenn Kotche on drums. These guys are just amazing and their extremely "arty" in the regular gigs. But here, they're all like peas and carrots mixing together perfectly. This is such a great album, you should go buy it immediately.
3.5 Spoon- Ga Ga Ga Ga Ga
Damn lists!! I woke up this morning humming Spoon's "The Underdog" in my head and realized I left them off my list! Again, like Ted Leo, Spoon are the darlings of indie rock…or were a year or two ago. Now that they had the nerve to make a fun, interesting and accessible album, they may have been shunned a bit. Anyone shunning Spoon for Gax5 is just doing themselves a disservice as this album is a good one.
If you listen to the radio on pretty much any station playing newer rock, you heard "The Underdog" and that's pretty cool. I've heard the song on at least 4 very different radio stations and that kind of crossover appeal for a smaller band is impressive. But there's also tons of great songs on this album and I think I'm going to go listen to it right now!
4. Josh Ritter-The Historical Conquests of Josh Ritter
Josh Ritter is a bad ass. Unlike Ted Leo, he's only amassed a teeny bit of indie buzz but the guy is one of the best singer songwriters out there…and that's saying a lot. His last album "Animal Years" is also great, but for me it kind of tailed off about midway through. But this album, "The Historical Conquests of Josh Ritter" has held my attention throughout nearly every listen.
This album is also much "bigger" than his other one (actually, he has several but the other one I own) and features all kinds of cool arrangements and instrumentation. But Ritter has an elegance about him and through all the new sounds on here, his songwriting is still clear…and awesome.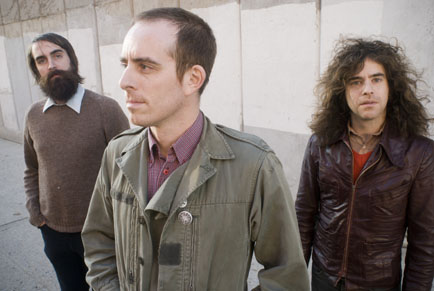 5. Ted Leo and the Pharmacists- Living with the Living
I had been hearing about these punk oriented rockers for years but I always feel like a big ole poser when I jump on a bands buzz laden bandwagon. But when a few different people started raving about "Living with the Living" I checked it out and fell in love.
Fairly simple guitar riffs and cool lyrics had me listening all summer and the album was one of those ones you always find yourself looking for in your car. While driving. And text messaging. Kidding.